Features Health & Safety Mental Health
Psychologically Safe Workplace Awards offer both celebration and road map
November 8, 2021
By Jack Burton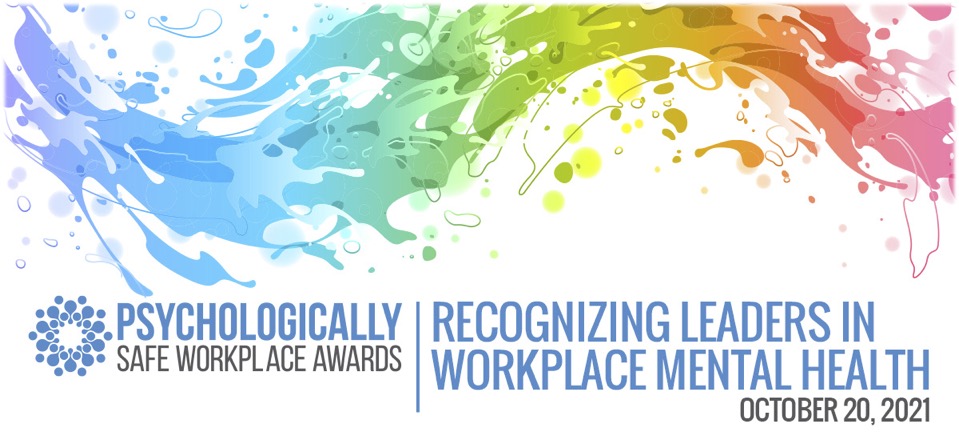 The uncertainty of the COVID-19 pandemic has made it more important, not just to develop robust mental well-being plans on the organizational level, but also to recognize the strategies and solutions that employers have developed to support mental health over the last 18 months.
Highlighting these developments was the inaugural Psychologically Safe Workplace Awards, put on by Talent Canada in partnership with OHS Canada and Howatt HR Consulting on Oct. 20, 2021.
The online event took place in partnership with the Mental Health Commission of Canada, and was sponsored by LifeWorks' AbilitiCBT and Ontario's Workplace Safety & Prevention Services.
Recognizing excellence
The Psychologically Safe Workplace Awards recognized six organizations across the country for innovative workplace mental health initiatives, with candidates selected through an evidence-based approach in collaboration with Howatt HR.
This process involved organizations participating in Howatt's Mental Fitness Index — a system that quantifies employee well-being based on four key pillars of physical health, coping skills, work, and life, as well as a variety of factors such as leadership expectations and employee recognition.
Achieving gold-level honours for their psychologically safe workplace was Dejero, an internet connectivity company in Waterloo, Ont.
PointClickCare, a cloud-based health-care software provider in Mississauga, Ont., Associated Engineering, an engineering consultant in Markham, Ont., and the St. Catharines Fire Department in southern Ontario all received silver awards, while bronze-levels awards were given to Servus Credit Union in Edmonton, and BASF Canada, a chemicals company headquartered in Mississauga.
Data's path to psychological safety
Beyond providing the quantitative model for which candidates were evaluated, Howatt HR president Dr. Bill Howatt also kicked off the event with a keynote speech, delivering insights from his more than 30 years' experience in mental health, human resources, and leadership.
Howatt believes that data is a game-changing tool in creating more psychologically safe workplaces, as it allows workplaces to develop an effective long-term strategy, malleable to the changes and needs that the information reveals.
The future of psychologically safe workplaces "is not just about buying a bunch of programs to say 'we have 20 programs,'" he said.
Instead, "we need to be thinking about: What are the right programs? Are the programs working? When are employees accessing them?"
Data, Howatt believes, provides the answers to these questions, and in turn helps employers excel at creating a work environment that genuinely prioritizes the well-being of its workforce.
Properly using data to this end means treating it not as just information, but also an actionable tool that shows employers where they currently stand, and the steps necessary to improvement.
"So, if I say I want to reduce mental harm and promote mental health, I get all my data," explained Howatt. "And then off of that data, I'm going to make some informed decisions on what I'm going to do. I'm going to do that over some distance, and then I'm going to re-measure."
That last step, of developing and interpreting one's data with patience and flexibility, is what Howatt feels is paramount in building a strong foundation of well-being.
It transparently communicates to employees that: "we're committed to psychological safety and we don't just want to talk about it, we want to facilitate it knowing there is no goal line, we know there's no perfect, and we know that this takes time."
Starting the conversation
The awards ceremony also included a panel discussion featuring workplace well-being experts and employers speaking first-hand of their experience consulting on, and developing their own, cutting-edge mental health programs.
WestJet's manager of organizational well-being, Lisa Dodwell-Grieves, pointed out signs employers can look for to indicate a team member may be struggling with their own psychological safety.
Despite the complexity of the issue, potential warning signs may be as simple as any uncharacteristic behaviour changes, such as a drop off in attendance or productivity, she said.
As the range of potential factors that could be influencing these changes is wide, Dodwell-Grieves recommended opening up a discussion before concluding anything.
"Never assume that these indicators are meaning something is definitely up," she said, "You don't know until you start that conversation."
As an employer, having said conversations help communicate support, while also providing an opportunity to highlight to the individual their unique emotional needs and the possible actions to overcome their situation.
"Something we like to use at WestJet is: 'What does mental health look like for you?'" said Dodwell-Grieves. "When asking what help looks like for you, it keeps the accountability on them, but also opens them up to think about all the different ways they might be able to get support."
Organizational resilience begins at the individual level
Andrew McCartney, Inkblot Therapy's senior director of client strategy, echoed the suggestion that support should be tailored to empower the languishing individual to get better and see their well-being as their responsibility, rather than that of their employer.
"We want to show them that we care enough so that they get help, but that we're not the ultimate one to provide that support directly — we want to guide them to the right solutions or services," he said. "Recognize that with individuals, you're there to support; you're not there to diagnose."
McCartney suggested that employers familiarize themselves with the capabilities and resources that both their organization and they as individuals can provide, so that these conversations can productively occur as soon as the need arises.
"As a leader we always want to be prepared for these situations before they occur, which sounds like it's a more challenging thing," he said.
A huge help, he believes, comes from "just knowing what's in your toolbox as a people leader; what other resources you have at your disposal."
Though this empowerment may occur on an individual level, McCartney believes the influence can be felt company-wide.
"Resilient individuals lead to resilient teams, which lead to a resilient organization," he said. "We really want to make sure that happens on the granular level, with each employee feeling like the organization does care."
The resources to dissolve stigma
Central to evolving mental health in the workplace, on both an organizational and individual level, is a shift toward meeting these struggles with openness, rather than stigma or silence, according to the Mental Health Commission of Canada's director of mental health advancement, Sandra Koppert.
"Mental illness isn't the problem that we're trying to solve," Koppert reminded attendees.
"Really, stigma towards mental illness and mental problems is what were tackling here, and fortunately, there are a number of resources that support reducing stigma in workplaces and building mental health literacy."
Koppert highlighted a number of mental health literacy programs, including the commission's own Mental Health First Aid Training, along with the Working Mind Program — a mental health literacy program with modules available for both the staff and leadership levels.
By targeting attitudes toward emotional well-being within the overall company culture, Koppert sees these programs as key in "really leveling the playing field of understanding mental illness and mental health, so that we know what we're talking about."
Psychological safety strategies to strive toward
Operating on this new playing field of psychological safety is PointClickCare, one of this year's silver-level award winners.
Kareen Clattenburg, the company's vice-president of Total Rewards and People Strategy, shared with the panel what an award-winning well-being strategy looks like.
Clattenburg recommended quality over quantity as a guiding philosophy when developing wellness programs.
"It's not about the number of programs that you put out there. If you put too much stuff out, people are going to be overwhelmed and not know where to go to get the right support."
Included among PointClickCare's initiatives are an extensive cross-media resource page for those seeking help, online fitness and wellness classes, weekly check-ins and question sessions by company leaders, along with the introduction of Wellbe, an interactive mascot for PointClickCare's workplace well-being program, developed alongside extensive input from employees.
Clattenburg also highlighted a series of panels where leaders within the company opened up about their own mental health struggles.
Dissolving the divide between leaders and staff is important in progressing workplace mental health conversations, Clattenburg believes, as it shows that "this isn't a level of job, this isn't location, this impacts everybody in the organization."
The Psychologically Safe Workplace Awards will return in 2022, culminating with a live gala at the Globe and Mail Centre in Toronto, on Sept. 15.
For more information on the Psychologically Safe Workplace Awards, visit https://www.psychologicallysafeworkplace.com/.
Jack Burton is a freelance writer in Toronto.
---
Print this page