September 21, 2020
Sponsored
Seventy-three per cent of workers currently working remotely full time are uncomfortable with returning to work during the COVID-19 pandemic, according to a Talent Canada survey of 850 workers.
Meanwhile, results indicating that just slightly more than half of those currently working at their typical jobsites feel comfortable is "distressing," said David Weiss, CEO of Weiss International, an HR consultancy in Toronto.
"They're the ones that have done the work already during the pandemic, because they were in the office," he said. "I can understand why it might be a little bit more extreme if you haven't been to the office at all, but all of it is very, very troublesome."
"Either it means that organizations have not done what they need to do to make it safer, or organizations haven't done what they need to do to communicate that it's safe."
Return to work survey
For the past six months, many workers across Canada have been working from home as businesses shuttered or remained open at reduced capacity due to the COVID-19 pandemic.
Other businesses never shut down, but had to adjust operations and procedures to ensure worker safety.
As restrictions ease, many employers are wondering: are employees ready to return to work?
According to the national survey conducted by Talent Canada, in partnership with TELUS Employer Solutions, there is a wide disparity in employee readiness.
The online survey was open from Aug. 6 to Sept. 9. A wide range of industries was represented, with 50 per cent of responses coming from office workers.
On Sept. 17, a virtual roundtable was convened to parse the results of the survey, in hopes of giving senior management and HR professionals insights into what may be needed for employers to return to a semblance of normal work operations.
Considering employees' perspectives
At present, returning to work amid the global COVID-19 pandemic is a critical discussion for employers.
While those with essential workers remained open throughout the nation-wide lockdowns experienced as a result of measures to flatten the curve, others are now attempting to realize what comes next.
Changes to many office settings will need to be made for a full return to occur, said Weiss.
"Those people that have been working through the pandemic on-site have a greater likelihood to be less uncomfortable, because they saw what it's like, because they've been there."
Remote workers have not yet experienced the new-look workplace, so it is understandable that they would be more anxious about returning, he said.
"In some places, employers have been purposeful and with good intent," said Kimberly Humphreys, corporate director of employee experience at Interior Health Authority in Kelowna, B.C.
"With the pandemic, as more information happens and grows, so does people's perspectives as well as comfort levels," she said. "Sometimes, employers think that they've communicated and gone out… but they haven't had an ongoing dialogue."
At the start of the pandemic, 10 per cent of the Interior Health Authority's workforce of 21,000 began working remotely, said Humphreys.
Dialogue has been maintained through pulse check surveys and support of facilitated questions filtered through senior leaders to staff, she said.
Constant communication with employees through surveys is a key strategic tool, according to Jose Dino, general manager of TELUS Employer Solutions in Vancouver.
The initial response of your organization at the pandemic's onset is also of importance, he said, noting the TELUS Work Styles program as an example of allowing employees to choose how they would like to work.
"A lot of our employees are very used to working in a remote environment, so we were able to transition fairly quickly," said Dino.
TELUS also focused on mental health and stresses employees may experience as a result of the pandemic, he said.
Analyzing comfort levels
Employees are looking for leadership from management and the organization, said Dino, noting that TELUS built a return-to-work playbook, mapping out the process from different perspectives.
"Our focus is to provide our employees with the information that they need and to recognize that their safety is important to us, their mental health and well-being is," he said. "It's really how you react, how you respond from an organizational perspective… and providing employees with the necessary tools to be successful."
As discussion around an eventual return to worksites heats up, workers appear to be more at ease with working remotely.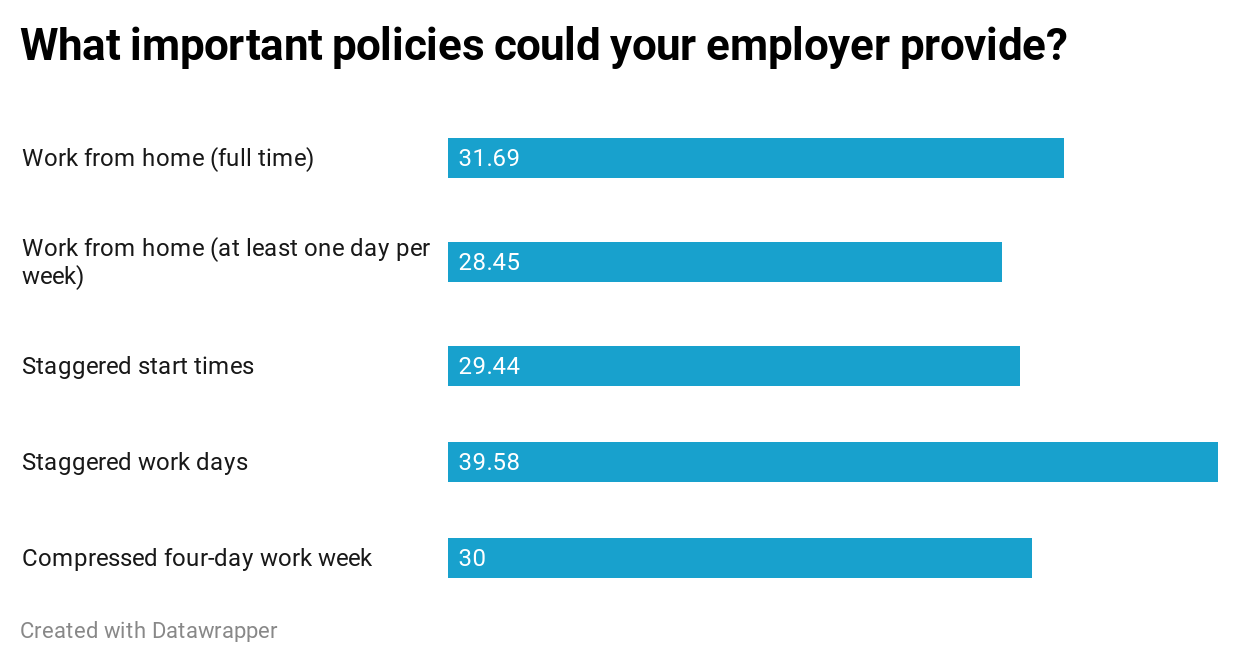 Nearly one-third of employees desire staggered workdays or start times, four-day work weeks and opportunities to work from home more consistently, according to the survey.
It's clear that workers are looking for changes, with some organizations embracing a model supporting improved work-life balance, said Dino.
"Whether or not we find a vaccine soon enough for the current pandemic, how we work is going to change," he said. "Remote work seems to be becoming more and more prevalent."
COVID-19's effect on the workplace has been "one, big social experiment," said Humphreys.
A theme she is hearing is that people do see a need to "come back together," she said. "They're wanting to return to the office, but maybe not the way it was before."
Statistics show employees are concerned about large groups in one workplace, said Weiss.
"Employees don't believe they can do this by themselves," he said. "They need organizational practices and policies in place to help them be safe."
Preparing for a 'new normal'
When it comes to the eventual return the office, comfort levels in terms of washroom usage, lunch rooms, elevators were largely split, with slightly more respondents indicating that they had little to no concern with using these types of workspaces.
Two areas where concerns were greater were public transit and fitness facilities.
Employers have accountabilities to make all workplaces safe, said Humphreys.
"It doesn't matter if people have a higher level of comfort or not, employers must make sure that how they set up their environmental controls, administrative controls give all people that assurance that it's safe," she said, noting orientations may be helpful.
Those with higher comfort levels may not be as compliant with new safety protocols — an aspect that cannot be overlooked, said Humphreys.
Workers with greater concern may refuse to come to work if faced with these types of situations, and employers need to ensure workplaces remain safe, she said.
Telus is currently utilizing an online reservation system for those coming into the office, said Dino.
Even so, organizations must ensure strict policy and procedures are in place around social distancing, he said.
When it comes to specific safety measures, face masks, signage, hand sanitizer — as well as regular sanitization of workspaces — were deemed very important by a majority of respondents.
Workers are resilient, said Humphreys.
"People have adapted and are willing to adapt to these new ways of working," she said. "I'm just concerned about people's ability to have the capacity to continue to adapt in all walks of their life."
Mental health and well-being will be major factors, said Dino.
"Outside of here's some hand sanitizer and a mask — may the force be with you — we've got to look a lot deeper," he said.
Businesses are transforming due to pandemic restrictions — possibly for good, said Dino.
"We've been exposed to new ways of working. In some cases, they've become more popular."
But not everyone is adapting in the same way, he said, noting some remote workers are struggling with feelings of isolation.
Requests from remote workers
For those who continue to work from home during the pandemic, flexible work hours, company paid internet and smartphones, as well as virtual health care and video conferencing technology are in demand, according to the survey.
Flexible work — if managed correctly — can improve productivity, retention and work-life balance, said Dino.
But organizations must also be aware of the potential of isolation and effect on managers, he said.
"Not all leaders are comfortable leading in this type of an environment. There's certainly a lot of work that an organization — specifically human resources — has to do to actually help enable leaders, managers to lead in this type of environment."
Internet security and protection of confidential data must also be considered, said Dino.
Organizations are doing their best to keep pace and respond positively to these new demands, said Humphreys.
"It's going to impact what people value," she said.
"As time evolves and we get more information — and this just doesn't become about responding to a pandemic, but focusing on how do we move the workplace forward — all of these pieces will have to be continually re-evaluated."
Agile principles are increasingly being implemented, said Weiss.
"It's just survival and good answers are happening much more rapidly, so that's maybe a positive silver lining on all these problems that we're seeing."
COVID-19's effect on workplaces
Six months of lockdown have proven that much office work can occur from anywhere.
The trickledown effect could impact organizational facets such as facility usage, said Humphreys.
"How and what we use our building footprint for will be impacted," she said. "I do think that there's going to be some type of creativity and some type of evolution in how we create collaboration spaces. Gone are the days of little cubicles and figuring out how many people we can push into the smallest space possible."
Workplace constructs will also change, said Humphreys, including the definition of a work day as well as the way work takes place.
"All of these pieces are moving the culture of organizations," she said. "People are working in different ways — not so much together. How are workplaces and employers going to evolve their practices around embedding organizational culture across many?"
Productivity will come more sharply into focus going forward, said Dino.
"There has to be trust and an organization has to have the kind of culture to help support that," he said.
The pandemic experience has destroyed the myth that workers will not be productive when working from home, said Weiss. "It's just not true."
"People can work remotely — they don't have to be watched all the time."
And virtual interactions are shedding light on colleagues' personal lives in a whole new way, he said.
"We're in each other's homes, and all of a sudden the dog comes running by. We're getting to know people on a level that we weren't knowing them before."
"The integration of life with work is getting closer and closer," said Weiss. "I don't think that is going to disappear. I think that will be sustained, and leadership needs to know how to nurture it and make it as an asset to really bring people in and have them engaged and committed… and productive, so that we can get really good outcomes, even in this new way of working."
Return to work virtual roundtable
---
SPONSORED CONTENT
Seven in 10 uncomfortable with return to work: Survey
A new survey shows nearly seven in 10 employees are feeling uncomfortable about returning to the workplace.
The study by Talent Canada and TELUS Employer Solutions finds that employees who are currently working remotely are concerned about returning to the workplace, including 41 per cent who are very concerned. For employees already spending some time in the workplace, the number falls to 43 per cent.
This gap suggests HR leaders have an opportunity to consider how they will structure a return to the workplace, and how they can address lingering concerns around safety, productivity and wellness over the next few months.
The study also showed that employees are particularly concerned about the risks involved in shared workstations, using public transit and going to cafeterias, restaurants and fitness centres. While they are less concerned about washrooms, elevators and coffee stations, they are evenly split when it comes to worries about the safety of collaboration spaces and carpooling.
The workforce is also indicating they would prefer not to return to pre-pandemic ways of working.
Most say they are quite comfortable working from home and those who are doing it full time are interested in new ways of working such as staggered workdays and start times. About 30 per cent are also interested in a four-day week or continuing to work some days at home. Thirty-one percent would like to stay home full time.
Those who are working from home overwhelmingly expect employers to help them stay productive and healthy. In addition to providing or subsidizing the technology and equipment needed for a home office, workers are looking to employers for advice about staying healthy in their virtual workplaces.
Focus on virtual health services
Virtual health services are an interesting area of focus for respondents, including physical care (38.6 per cent), mental health support (32 per cent) and fitness advice and training (28.3 per cent). This growing interest in virtual health and wellness offers employers an opportunity to add these benefits to their total rewards as a way to build and sustain a healthy workforce while attracting and retaining key talent.
In uncertain times, HR leaders should be working with the rest of their organization to support employees throughout the return-to-workplace process.
Communicate clearly how you are making your workplace safe: Employees want to know about PPE, safety protocols and expectations.
Acknowledge concerns about areas outside your control, such as public transit or restaurants, and provide guidance for staying safe.
Think flexibly about how you design your return to work – involve employees in planning the next few months, and look for opportunities to support work-life balance and healthy habits.
Ensure your home-based teams have the tools they need to work safely and productively.
Invest in health and wellness, particularly exploring the benefits of virtual access to care.
The survey was conducted Aug. 6 to Sept. 9 with 850 respondents representing a variety of sectors, roles and business types across Canada.
---
Print this page
From the Bookstore