Premium Sponsor
---
Morneau Shepell

Morneau Shepell is a leading provider of technology-enabled HR services that deliver an integrated approach to employee wellbeing through our cloud-based platform. The company's focus is providing world-class solutions to its clients to support the mental, physical, social and financial wellbeing of their people. Services span across employee and family assistance, health and wellness, recognition, pension and benefits administration, retirement consulting, actuarial and investment services. Morneau Shepell employs approximately 6,000 employees who work with some 24,000 client organizations that use our services in 162 countries. Morneau Shepell launched its monthly Mental Health Index™ in April 2020, which measures the state of Canadians' mental health during the pandemic compared against benchmark data collected in 2017, 2018 and 2019.

In these unprecedented times, we know many of you are experiencing anxiety related to the impact of COVID-19 in your lives and communities. We want to make you aware of a new program that is being offered by the Government of Ontario — called AbilitiCBT.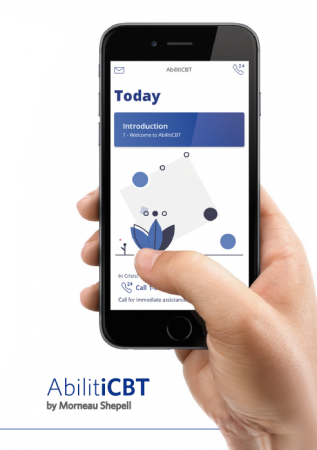 The program addresses generalized anxiety, depression, and anxiety symptoms related to the uniquely challenging aspects of pandemics: uncertainty, isolation, caring for family and community members, information overload and stress management.
Help when you need it. Where you need it.
What is AbilitiCBT?
AbilitiCBT is cognitive behavioral therapy (CBT) guided by
a therapist through a digital platform accessible from home.
CBT is proven to be one of the most effective and efficient therapy methods. AbilitiCBT is uniquely effective because it virtually pairs you with a professional therapist that supports you through your program.
AbilitiCBT is offered at no cost to you.


The importance of digital health solutions: now and in the future
The mental health and wellbeing of Canadians is at significant risk. COVID-19 has brought many changes to our lives that have disrupted our sense of normalcy, contributing to higher stress levels and an increased potential to develop into more significant mental health concerns if left untreated. Morneau Shepell's recent Mental Health Index™ revealed that overall mental health has declined, and stress has increased month-over-month due to COVID-19, demonstrating the need for real-time intervention.
This presentation will focus on the importance of digital mental health solutions in an increasingly virtual world and specifically, how internet-based cognitive behavioural therapy (iCBT) can help Canadians. Highlighting Morneau Shepell's AbilitiCBT™ solution, this presentation will highlight how AbilitiCBT works, how it provides immediate support for pressing mental health concerns and how each program equips individuals with the abilities and the tools needed to build healthy coping skills.
View our informative video in French:
With Support from

From the Bookstore