Virtual Event
Taking a Stand
June 23, 2021 at 2:00pm EST
How Organizations Can Overcome Hate and Inspire Meaningful Societal Change
The pickup truck attack in London, Ont., on June 6 has shaken Canadians. A family of five out for a walk was targeted because of their religion and background, with four of them killed and a nine-year old boy critically injured.
The outpouring of support from Canada's corporate community has been strong. Senior business leaders are in a unique position to be able to drive real, sustained societal change – arguably even more than government.
Talent Canada, a national media brand that looks at employer issues from a C-suite perspective, is organizing a conversation featuring business leaders to discuss the way forward: What can organizations do to help eliminate hate in society?
We'd like to invite you to attend this unique and powerful conversation with a panel of leading CEOs including representatives from Bruce Power, LifeWorks and Pathwise Credit Union.
Donations: Talent Canada is not accepting sponsors for this free event, but attendees are encouraged to make a donation to the boy who lost his family.
Register Now
Schedule

2:00pm - 2:05pm
Opening remarks – Todd Humber, Group Publisher, Annex Business Media
Todd Humber is an award-winning journalist who has spent more than two decades covering issues of importance to employers. He is the publisher of Talent Canada, a national media brand that makes the business case for investing in people. He is also the publisher for other national and international media brands including Canadian Forest Industries; Turf & Rec; Rock to Road; Pulp & Paper Canada; Operations Forestieres; Crane & Hoist Canada; Canadian Biomass; Hatchery International; Aquaculture North America; and RASTECH.
Speaker:
Fatima Laher, Global Lead Client Service Partner, Board Director, Deloitte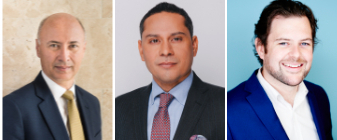 Organizations have a unique opportunity to drive societal change, arguably more than government. With people spending so much time in their workplaces, employers can lead and set the tone. Our panel, featuring senior Canadian business leaders, will talk about what can be done to reduce and eliminate racism, hate and intolerance.
Moderator:
Todd Humber, publisher, Talent Canada
Panellists:
Mike Rencheck
, president and CEO of Bruce Power
Nigel Branker
is President, Health and Productivity Solutions and Executive Vice President at LifeWorks
Chris Inniss
, CEO of Pathwise Credit Union
3:35pm
Closing remarks
Frequently Asked Questions About Taking a Stand
When & Where?
Taking a Stand will take place virtually via GoToWebinar on June 23, 2021 at 2:00pm EST.

There will be a 15 minute break between live sessions.
Why Virtual?
The safety and wellbeing of our employees, customers, and community is our number one priority. By making this event an online experience, it eliminates the need for attendees and sponsors to travel in-person, while enabling them to still benefit from the event content.
What's Included?
Your registration provides you with access to watch the virtual keynote, all live sessions, and on-demand recorded content and product demonstrations.
How do I access?
We will email you an access link to the virtual event the morning of June 23, 2021.
If you don't see an access link in your email inbox, please check your junk folder. If you are still unable to locate the email, contact
Tara Jacobs
.