Virtual Event
Work 4.0: Revolutionizing
work post-pandemic
April 15, 2021 at 1:00pm EST
Employers have weathered the COVID-19 pandemic with a variety of short-term, innovative solutions designed to keep doors open, staff engaged and productivity at respectable levels.
But as the dust settles, leaders are taking a step back and exploring longer-term strategies to respond to employee demands, capitalize on best practices and take advantage of proven technologies to create the best organizations.
There is unparalleled appetite among business leaders for cutting-edge HR practices that will enable critical areas like collaboration, engagement, retention and innovation.
On April 15, Talent Canada is hosting a must-attend virtual event to provide trusted and reliable information to these leaders as they conduct due diligence on how to redesign their workplaces.
Register Now
Schedule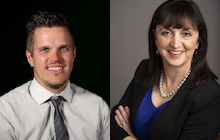 1:00 - 1:05 pm
Opening remarks
Speakers: Marcel Vander Wier, editor of Talent Canada
Margaret Stuart, Country Manager, Canada, Salesforce
Speaker: Dave Ulrich, Ross School of Business at the University of Michigan
If the fallout of the novel coronavirus has taught us anything, it is the normal we knew is gone, and there's a new future to prepare for.
The pandemic may very well be ushering in Work 4.0 — a broad concept conceptualizing what the future world of work will look like by 2030 as a result of widespread digitalization.
Panelists:
Jason Brommet, Head of Modern Work, Microsoft Canada
Robert Hosking, SVP, Managing Director - Search Practices, LHH
Kathy Parker, Partner, Consulting & GTA leader, Workforce of the Future , PwC Canada
Our expert panel will discuss the future of innovation and collaboration in a hybrid work environment, including how to pursue business growth through a crisis, and strategies for workplace leaders on managing for results, as opposed to attendance.
2:20 - 2:30pm
Break
Panelists:
Deon Blyan, Director, Global Talent Development, People & Culture Sunwing Travel Group
Vala Afshar, Chief Digital Evangelist, Salesforce
Dr. Chris Mullen, PhD, SPHR, SHRM-SCP, Executive Director, The Workforce Institute, UKG
Business leaders are currently mapping out their futures post-COVID-19 pandemic. Our panel of experts will discuss how to find the best route and vision for your company, and how to achieve buy-in from your leaders on futuristic thinking.
Speaker: Zabeen Hirji, Executive Advisor Future of Work at Deloitte
Leadership is at an inflection point. The pandemic has changed the way we live and work, and leadership has become more human — compassionate, transparent, inclusive, collaborative and even vulnerable. Does this drive organizational performance or hinder it? Is it a moment or a movement?
3:30pm
Closing Remarks
Speaker: Marcel Vander Wier, editor of Talent Canada
Want to identify better hires who will stay longer at your organization? We recommend implementing a pre-work process at the beginning of a search and a candidate assessment protocol at the end to achieve these objectives.
The workplace is no longer what it used to be, and the circumstances that an employer must accommodate continue to expand.
The year 2020 changed work forever, impacting every person and organization across the globe.
Virtual Delegate Bag
Additional Resources
Frequently Asked Questions About Work 4.0: Revolutionizing
work post-pandemic
When & Where?
Work 4.0: Revolutionizing
work post-pandemic will take place virtually via GoToWebinar on April 15, 2021 at 1:00pm EST.

There will be a 15 minute break between live sessions.
Why Virtual?
The safety and wellbeing of our employees, customers, and community is our number one priority. By making this event an online experience, it eliminates the need for attendees and sponsors to travel in-person, while enabling them to still benefit from the event content.
What's Included?
Your registration provides you with access to watch the virtual keynote, all live sessions, and on-demand recorded content and product demonstrations.
How do I access?
We will email you an access link to the virtual event the morning of April 15, 2021.
If you don't see an access link in your email inbox, please check your junk folder. If you are still unable to locate the email, contact
Tara Jacobs
.