News
Creating a new employee experience for an evolved workplace
July 7, 2022
Sponsored
by Microsoft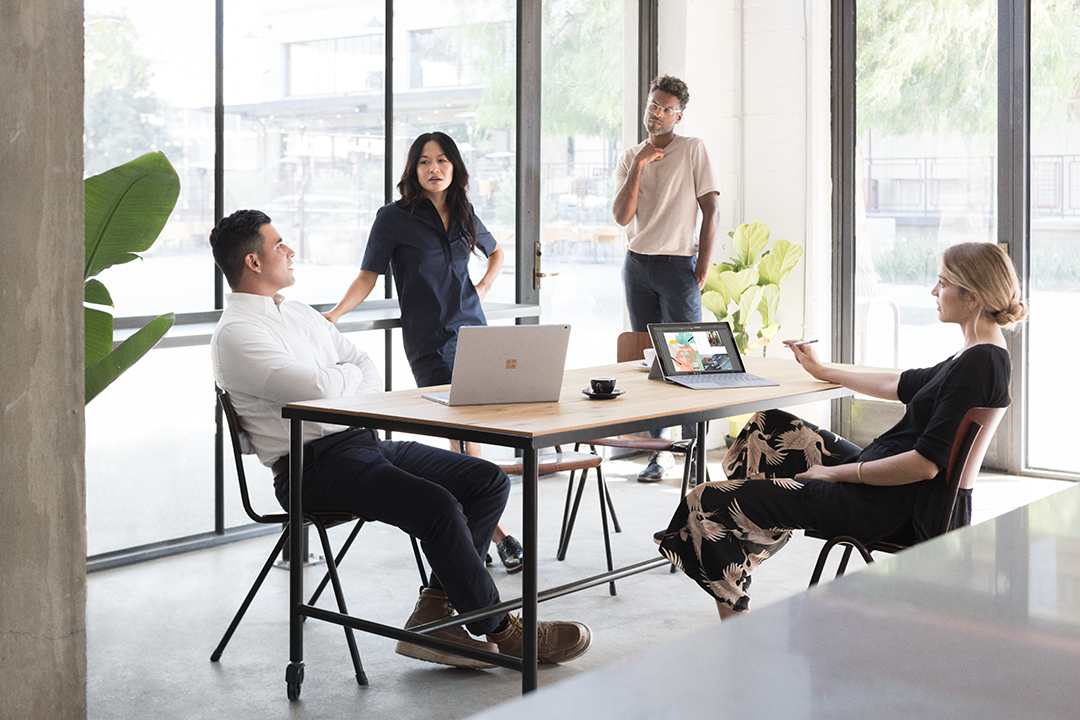 Just as the workplace has changed, so have the people in it. Guiding organizations through these new expectations is Microsoft's suite of solutions tailor-made for the redefined employee experience.
As organizations continue to navigate return-to-office plans and hybrid work models, the lessons of the last 28 months are invaluable when rethinking not just what the future of work will look like, but the purpose and relationship that companies seek to cultivate between that work and their employees moving forward.
"We've been given this amazing moment to kind of rethink everything, and so the employees that went home two years ago are very different than the employees that are returning to the workplace today," said Jason Brommet, Microsoft Canada's Modern Work and Security Business Lead.
Modeling the blueprint of the new workplace is Microsoft's Work Trend Index, published in March of this year, which surveyed over 30,000 professionals on their experiences and roles in order to analyze the major themes behind this shift.
Adaptability and meaning as emerging values of work
According to the data, integral to this wave of changes is the sense of adaptability that professionals have been forced to discover and grasp over the last two and a half years, and with it, a necessity for streamlined and intentional organizational solutions.
From caring for family while working at home to incorporating moments for physical or mental wellbeing into the workday, Brommet said that "behind these findings is that we as humans have adapted: we've changed our work patterns to create more space," balancing the needs of both our personal and professional lives.
To complement this change, he advocated that organizations adopt a model of radical intentionality to ensure that the roles and engagement of employees feel meaningful enough to inspire purpose and empowerment across the work culture.
"It's this idea where we don't want to force people into the office 'just because' – we want to bring them together to solve an outcome," Brommet described. "That may be about building culture, connections, or something practical like ideating around a new business opportunity or problem, but it's this idea of radical intentionality which says that ultimately, it needs to be thoughtful."
Microsoft Viva, a compass for the evolved workplace
Thoughtfulness and intentionality's emergence as new cornerstones of the workplace has provided essential inspiration for Microsoft's approach to dynamic, all-purpose technologies such as Microsoft Teams and Microsoft 365, the company's portfolio of collaboration solutions.
Connecting these tools is Microsoft Viva; a network of integrated modules across Microsoft's services, which Brommet said comprises "the first experience platform built for the digital era."
Launched in 2021, the philosophy behind Viva comes from "a need to stop thinking about work as where we go, and start to think more about it in the context of what we do; and from that, how do we go create that digital fabric that brings together all of these capabilities into a unified experience," said Brommet.
Woven into Viva's digital fabric are five modules that target all aspects of employee experience – Connections, Topics, Learning, Insights, and the recently-announced Goals – to cultivate a work culture that's engaged and empowered, no matter the needs or responsibilities of the individual.
Connecting information with individual experience
Viva Connections, Brommet said, is built around "this idea that asks: how do we really bring the culture, communications, and connectedness of an organization together?"
Microsoft's answer provides a gateway for a range of modern employee experiences, from vacation booking to health checks, in addition to tailoring these experiences to the individual worker themselves.
This layer of personalization delivers information relevant to one's role and responsibilities, creating a curated experience that, by being cross-platform, also connects departments across the organization, such as workstation-based knowledge workers with front-facing employees that may rely more on mobile communication solutions.
Viva's focus on dynamic and encompassing employee solutions continues through the Topics module, an artificial intelligence-assisted workplace information tool that Brommet described as "Wikipedia for the enterprise, where AI creates the first draft."
By highlighting not just relevant data from across the organization, but also the internal talent equipped to further help with the query at hand, Topics provides both an efficient onboarding tool and the seeds for a growing and easy-to-navigate informational ecosystem.
Also easing organizations into new modes of onboarding is Viva Learning. Recognizing training and upskilling's role in building a culture of growth, Viva Learning brings these elements into the natural flow of work through incentives and experiences like the ability to socially share progress with coworkers and, due to Viva's integrated nature, across organizational and team boundaries as well.
Viva Insights: Organization-wide empowerment through data
Microsoft's commitment to empowering employees within their individual needs as a worker is wholly reflected in Viva Insights, which delivers anonymized data-driven, privacy-protected insights and recommendations that target productivity and well-being at the employee, managerial, and organizational levels.
For workers, Insights assists in the management of work-home balance at a time when those lines have blurred, through features such as the virtual commute, which reintroduces a critical space for unwinding and reflecting before and after the workday into the home office, along with the 'focus time' option.
At the managerial level, Insights breaks down a team's work patterns, helping leaders – with Brommet among them – optimally balance the efficiency and wellbeing of their staff.
"There was a period of time where I started to see those work hours stretching," he recalled, "and so Insights provided a great moment for me as a leader to pause and spend some time with my team to ask questions about where they were at."
Setting 'Goals' that go beyond current changes
Viva continues to evolve with the announcement of Goals, which connects employees to the overall strategic priorities of their organization, driving results by orienting workers toward overall company values and missions.
"I like to think about Goals as a reframing of the idea of performance culture and management," said Brommet. "It provides truly durable capabilities that every organization is trying to unlock in some way, shape, or form," which he believes – along with the rest of Viva's solutions – "rises above any pandemic-induced work pattern."
Brommet stated that with Viva, "we want to build this directly as a service, as that digital fabric, that says it doesn't matter where or when you're working. We're really orienting on the future of work here, focusing on core capabilities that most organizations have been wrestling with for some period of time, not just the last 28 months."
See here for more on how Microsoft Viva can evolve your employee experience and engagement
---
Print this page