Virtual Event
"The New Normal?" Managing the Return to the Workplace
September 28, 2021 at 9:00am EST
Avoiding the Legal & Organizational Landmines
Legal Risks
Employees who refuse to return
Employees who announce that they are Anti-Vax
Liability to secure a safe workplace for employees and customers
Organizational Challenges
Current Issues in Managing the Return to the Workplace
Key steps to take now to mitigate problems
Prioritizing Next Steps
Evaluating Pandemic pivots Reassessing your risks and opportunities
The Importance of Leadership
Register Now
Schedule
9:00 a.m.
Setting the Stage
Speaker:
Bill Ross, Janus Conferences
The rapidly changing environment and escalating risks as employees start to return to the workplace
How will you be able to conduct business when employees are refusing to come to the office?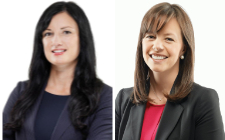 Speakers:
Shana Wolch
, McCarthy Tétrault
Kate McNeill-Keller
, McCarthy Tétrault
What if an employee says that they will not return to the office because of the risk of acquiring covid from colleagues or clients.
What if an employee acknowledges that they have not been vaccinated but still insists on returning to the office
Your liability to employees and customers if they acquire covid resulting from a contact at your premises
Speaker:
Norm Sabapathy, Cadillac Fairview Corporation
Current issues that are arising now as we Return to the Workplace.
Key steps organizations can take now to mitigate and solve issues.
Next Steps
Speaker:
Rob Stephen, Osborne Group
Understanding what will work best for your organization and how to implement it
The risks and opportunities you need to plan for now
10:10 a.m.
Roundtable discussion
10:25 a.m.
Closing remarks
Sponsored By

Presenting Sponsor
Frequently Asked Questions About "The New Normal?" Managing the Return to the Workplace
When & Where?
"The New Normal?" Managing the Return to the Workplace will take place virtually via GoToWebinar on September 28, 2021 at 9:00am EST.

There will be a 15 minute break between live sessions.
Why Virtual?
The safety and wellbeing of our employees, customers, and community is our number one priority. By making this event an online experience, it eliminates the need for attendees and sponsors to travel in-person, while enabling them to still benefit from the event content.
What's Included?
Your registration provides you with access to watch the virtual keynote, all live sessions, and on-demand recorded content and product demonstrations.
How do I access?
We will email you an access link to the virtual event the morning of September 28, 2021.
If you don't see an access link in your email inbox, please check your junk folder. If you are still unable to locate the email, contact
Tara Jacobs
.
From the Bookstore