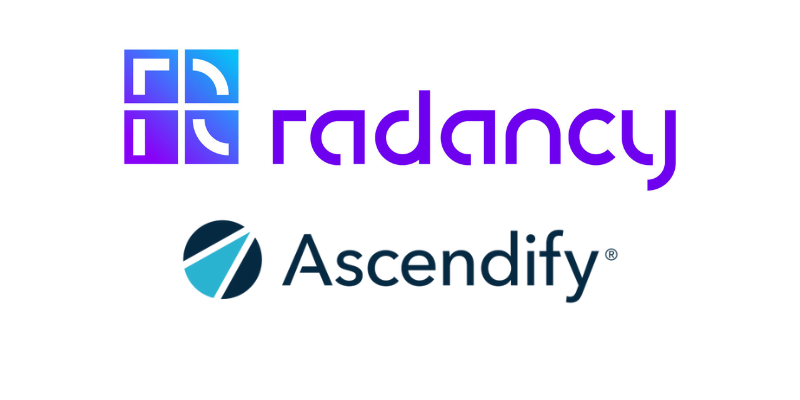 Radancy, a global talent acquisition software company, announced today that it has acquired Ascendify, adding value to the Radancy Talent Acquisition Cloud through advanced candidate relationship management (CRM) capabilities.
This acquisition enhances Radancy's suite of solutions focused on helping enterprises find the talent they need to strengthen their business, it said in a press release.
Talent technology has traditionally consisted of individual point solutions involving manual processes and ad hoc tools. The Radancy Talent Acquisition Cloud offers a single, integrated, end-to-end platform that automates the candidate recruitment process to help organizations source, engage and hire qualified talent. The Talent Acquisition Cloud provides a secure and scalable platform, supported by data-driven insights and AI to deliver consistent and optimized experiences across all candidate touchpoints, it said.
"In a market of siloed products and processes, we're excited to become a part of the Radancy Talent Acquisition Cloud," said Matt Hendrickson, CEO of Ascendify. "With the acquisition, Radancy adds Ascendify's valuable CRM-based recruiter tools to further enhance its comprehensive platform, including advanced sourcing functionality, workflow automation, interview scheduling and event management to augment its industry-leading platform and candidate marketing capabilities."
"As the competition for qualified talent grows, companies are increasingly seeking data-driven technology solutions to enhance their ability to identify, engage and hire candidates with greater effectiveness," said Michelle Abbey, President and CEO of Radancy. "We are seeing high demand for the Radancy Talent Acquisition Cloud as the only all-in-one platform that streamlines the entire recruitment process, enabling companies to maximize their reach, optimize touchpoints and increase efficiency."
---
Print this page
From the Bookstore