The number of jobs being posted by Canadian employers has fallen dramatically compared to one year ago, according to job board Indeed.
As of April 10, the number of jobs posted was tracking 43 per cent below 2019 levels — putting Canada on "the more severe end" of declines around the world since the start of the pandemic, according to a post by Brendon Bernard, an economist at the Indeed Hiring Lab.
Indeed has been tracking the number of postings on a week-by-week basis. This chart shows the decline that really began the week of March 13.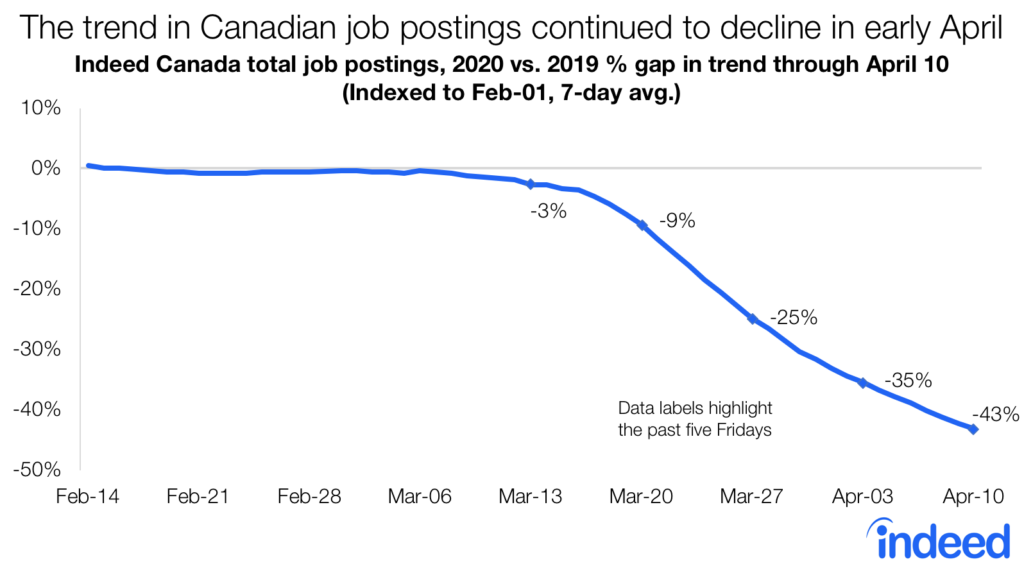 Stabilization
But there is some hope in the numbers, according to Bernard — who specializes in the Canadian labour market.
"While total Canadian job postings continued to slide relative to last year, the gap in new job postings that have been on Indeed Canada for a week or less is showing signs of stabilizing," he said. "New hiring intentions plunged as the economy entered its deep freeze, dropping to 57 per cent below 2019's trend by March 27. The gap in trend fell further to minus 64 per cent by April 3, but held relatively steady last week, easing to negative 66 per cent."
"If the gap in trend of new job postings holds steady going forward, the path of total postings will likely eventually follow, though it could take some time," he said.

Gaps widen in all provinces
The trend in total job postings compared to 2019 fell across all provinces last week, with the gap now at least 36 per cent in all regions, said Bernard.
Alberta is showing the biggest gap currently, where the economy is dealing with a double whammy of COVID-19 shock and a plunge in oil prices.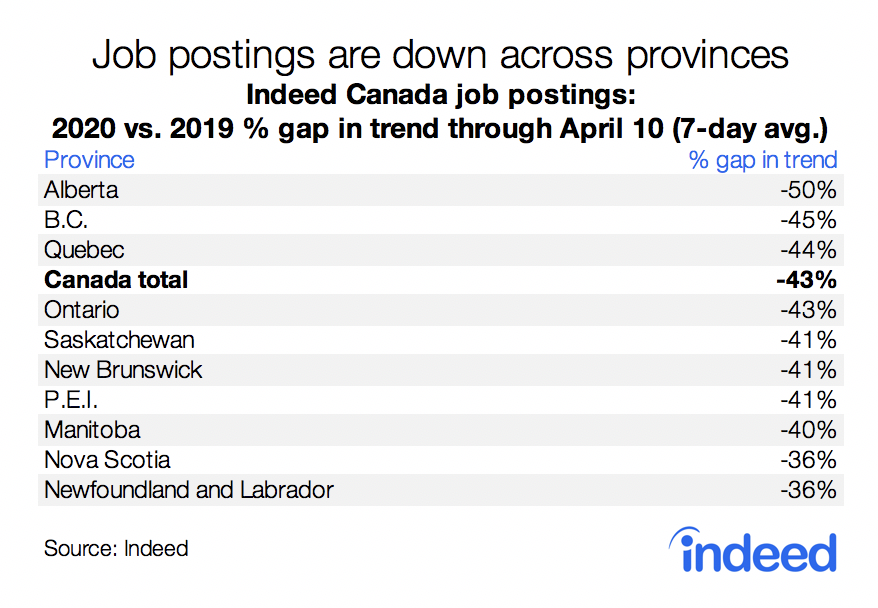 Every sector has seen a drop
In this era, a sector doing "relatively well" are ones that have declined less than 30 per cent.
"Continuing patterns seen in recent weeks, these areas include parts of the healthcare sector, like personal care and home health, which employs support workers and healthcare aides, as well as the pharmacy sector," said Bernard. "Job posting trends have also declined less than average in security and public safety (which includes security guards), as well as in software development."
The numbers indicate that the March Labour Force Survey numbers were just "an initial snapshot" of how much the coronavirus has devastated the job market, he said.
"Posting trends for jobs related to banking and finance, production and manufacturing, as well as civil engineering are all now down over 40 per cent from 2019 levels," said Bernard. "Meanwhile finance, insurance, and real estate, as well as manufacturing and construction industries, all experienced smaller than average declines in the March Labour Force Survey. This suggests we could see more substantial job losses in these areas in the April numbers."
Not surprisingly, there has been significant drops in sectors with face-to-face interaction — such as dental services, food preparation and service and beauty and wellness.
"Employer hiring interest has also fallen off in the mining sector, an area particularly exposed to the deterioration of the global economy," said Bernard.
---
Print this page
From the Bookstore