Presenting Sponsor
---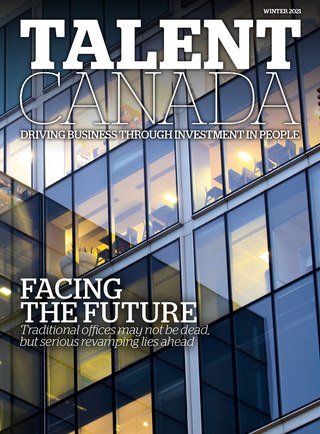 Established in 2019, Talent Canada is a national news and information source for employers — including C-suite leaders and HR professionals.
Its award-winning editorial team, with more than a quarter-century of experience covering the workplace, takes a deep dive into the topics that matter most to organizations.
"The benefits of getting HR right are tremendous," says Todd Humber, group publisher at Annex Business Media. "The statistics back it up: Organizations with higher employee engagement are more productive and more profitable. Treating your employees well pays all kinds of dividends, and this magazine is dedicated to sharing practices that work in the real world."
We open the boardroom doors at some of the most successful organizations in the country, of all sizes, to uncover best practices in a wide range of areas including:
Recruitment
Retention
Employment Law
Mental Health
Wellness
Background Screening
Workplace Investigations
Bullying and Harassment
Sexual Harassment
Pensions
Benefits
Rewards & Recognition
HR Technology
And so much more!
We have carefully compiled a CASL-compliant list of 32,000 C-suite professionals who are keen to learn more about what it takes to find and keep the best people. We have also partnered with HR associations across the country.