Mornings are not what they used to be for many employees. My day so far is a case in point.
I woke up at 6 a.m. — that's not unusual. Normally, it's followed by a rush into the shower, a quick shave and a rummage through the closet for what to wear. Then it's into the car, connect my phone, find a good podcast or a great playlist for the hour long, bumper-to-bumper, horn-blaring commute. Why are dump-truck drivers so damn aggressive?
Today, I merely crept down the stairs in the pitch-black quiet light, as not to awake anyone, and into my home office.
At 6:05 a.m., I posted the first news story of the day to Talent Canada. Most days, by 6:05 a.m., the hot water has just started gushing from the showerhead — assuming I don't hit snooze. I'm still two hours away from finding a parking spot at my office in Toronto's north end.
At 7:15 a.m., I heard the familiar whirl of the coffee grinder. It's the siren song of the morning, and my favourite part of this current reality.
I get to sit with my partner Kathy, spend some time together and chat aimlessly about what our work days have in store. Though, I probably should have made the coffee today since I came downstairs first. (In my defence, my affinity for coffee is a new-found one, so it's not always top of mind.)
When the cups empty, she wanders up to her home office. And I return to mine to run through emails, check on a couple of critical projects and turn on my laptop's built-in camera. Until two weeks ago, I had never used it. Not even once. In fact, I put a piece of masking tape over it — that's how much I loathed it.
Party on the bottom, business on the top
Now, it's my primary connection to the outside world. A headline on CNN's website this morning made me laugh — "Why Walmart is seeing a rise in sales for tops, but not bottoms during the coronavirus crisis."
I didn't need to read it to get it. I haven't seen a single person on my team from the waist down in more than two weeks. Video calls are an upper body game so, yes, you need a nice top. What's downstairs is a complete guessing game — shorts? Sweat pants? Yoga pants? All likely candidates.
It's the fashion equivalent of a mullet — business on the top, party on the bottom.
There are lighter moments, but these are stressful times.
Plenty of stress
You worry about catching COVID-19 or, even worse, passing it on to someone you love. Every cough, every hint of a sore throat or a slight chest tightness makes you wonder.
You worry about your job. And if you're a leader, you worry about your team's jobs.
The story I posted this morning highlighted the fact that, in the last couple of weeks, 10 per cent of everyone in Canada eligible for employment insurance has filed a claim. That's an unbelievable-yet-real statistic, and there are people and households and children and stress behind every one of those claims.
Earlier this week, Talent Canada ran a webinar on what options are available to employers to reduce labour costs during this crisis. It was not a guide to legally letting people go — it was a genuine effort to provide information to help companies retain talent in the best way possible, taking advantage of different programs, polices and best practices at a time when many companies are seeing revenue dry up.
We know it's far better to keep your team together — if possible — than have to recruit and refill roles later.
For that effort, I got an email from an angry salesperson — whom I don't know and who did not attend the webinar — calling me an "asshat."
He accused me of providing information to employers to legally "screw" over their workers in hard times.
It's no picnic for management. We know the best leaders are also often the most empathetic. And they're taxed by a barrage of priorities — counselling and reassuring nervous staff, trying not to make false promises, ensuring work continues to get done and trying to avoid the red ink from flowing into the books. It's a non-stop brainstorming marathon of initiatives.
We're all drinking more than usual.
A new lexicon
There are new words and phrases that are front and centre and mainstream that need no explanation.
Droplets. (It's how it's spread.)
Social distancing. (It's two metres, people.)
Self-quarantine. (It's 14 days, folks.)
I didn't need to tell you any of that, because it's all everyone talks about. "What day are you on?" and "Don't get that close!"
I used to sign all my emails with a "thanks" or "talk soon." Now it's "stay safe" and "wash those hands." And maybe, if I know you well enough, "Seen anything good on Netflix recently?"
Closer to my teams
Despite all of this, I feel closer to my co-workers and friends. I've only been in my role as group publisher at Annex Business Media for about 10 months. My team is scattered, with only a couple of direct reports in my office.
This week, for the first time, I had a videoconference call with Jeremy, one of my sales reps based in Victoria. While we talk on the phone frequently, I didn't really know what he looked like — other than his LinkedIn photo — because we hadn't met in person yet.
After a 30-minute Zoom chat, I feel like I know him so much better. There's more to his personality than his Scottish brogue. It was such an obvious thing to do, but never crossed my mind. (See masking tape, covering lens.)
But that's faded. The last two weeks, the team has gotten together for a virtual Thirsty Thursday — at 5 p.m. we fire up the webcams, grab a drink and just chat about whatever we feel like.
I've gotten to see and hear from people I'd yet to have the opportunity to speak with, even people in my own office. (Us introverts keep our heads down.)
Our dog, Dexter, made an appearance for Thirsty Thursday. He is objectionably adorable — and his presence sparked a side chat with one of my sales reps who wants him to have puppies so she can have one.
The point? It's still possible to teambuild and get to know people better when face-to-face has become the pariah's way to communicate.
The mental health toll
We know this will, eventually, come to an end. The when is the big question mark.
We also know it's taking a toll. I've been having some great conversations with some of the best minds in the business — including Dr. Bill Howatt. He is one of Canada's most respected experts when it comes to workplace mental health.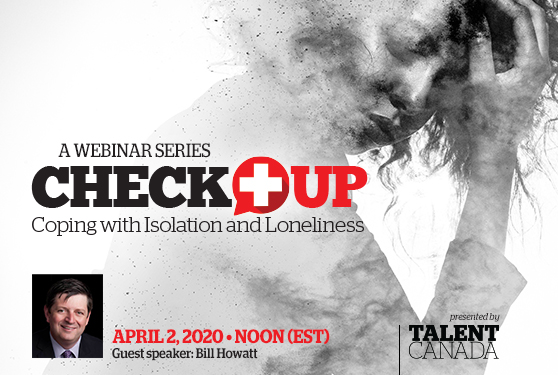 We're kicking off a special series in Talent Canada for employers and employees alike that looks at the toll all of this is taking on our mental health. It's called CheckUp. The first episode runs on April 2 and takes a look the effects of isolation and loneliness.
There are a lot of people who live alone and are missing the social aspect of work. Loneliness is a real thing, and was a problem long before COVID-19 came along. We'll have more information on the entire series, but you can register for the first one by going to https://register.gotowebinar.com/register/2217484461556415501. The cost to attend is $49.
In the meantime stay safe, wash those hands and if you've found something great to watch on Netflix, drop me a line. Via webcam, of course.
---
Print this page
From the Bookstore